Cooperation in an Uncertain World: For the Maasai of East Africa, Need-Based Transfers Outperform Account-Keeping in Volatile Environments
 July 23, 2016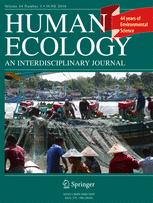 When the going gets tough, should you be stingy or nice? An article written by a team of Human Generosity Project researchers has been published in the journal Human Ecology investigates this very question by modeling volatile ecological conditions and testing the best resource sharing strategies. The researchers used agent-based models to compare strict account keeping to a generous giving rule based on the need of the recipient (called 'need-based transfers') under volatile conditions.
The modeling parameters were inspired by the Maasai, an East African ethnic group. The Maasai's livelihood largely depends on their cattle. When the Maasai are in need of cattle, they sometimes ask for them from their need-based transfer partners, known as isotuatin (singular: osotua). These need-based transfer rules for requesting and giving cattle can be summarized as: (1) ask only if you are in need and only for as much as you need, and (2) if asked, give up to the point that you are able without becoming needy yourself. Maasai also have transfers based on the idea of debt (esile). Gifts given in this account-keeping framework must be repaid or the relationship will end, which is unlike need-based transfers which are not expected to be repaid. Agents in this models who used need-based transfer strategies outperformed agents who used strict account-keeping strategies.
Human Generosity Project co-directors Athena Aktipis and Lee Cronk, Human Generosity Project members Anna Flaherty, Padmini Iyer, and Dennis Sonkoi, and former Rutgers graduate student Rolando de Aguiar participated in the research project. The results suggest that need-based transfer rules are more resilient under volatile conditions than rules that rely on debt. In other words, when the going gets tough, helping others who are in need is often a better strategy than going it on your own.
SHARE THIS PAGE: